We treat your kitty like family…

Why would you consider Happy Cat Retreat Cat Boarding to care for your kitty?  We know you are probably apprehensive about being away from your kitty.  To set your mind at ease, start by watching the video tour below.
Video Tour of Happy Cat Retreat
As you can see, your kitty won't be confined to a small cage. Each cat condo has a private window and their own outdoor enclosure.  Either inside or outside, they can watch the birds, rabbits  and squirrels  (or people) working or playing.
Each cat is treated to a three complimentary playtime periods daily.  A variety of music is played during the day and late evening to give a feeling of home away from home.
Our Service Area
While we are located in south Fort Collins, we have cat boarding customers from all over the Front Range as well as Wyoming.  The majority of cat boarding customers come from Fort Collins, Boulder, Denver  and surrounding areas.  This  includes the smaller communities located around these areas as well.  Because of our uniqueness, we have a lot of cat owners that are willing to drive 1 – 2 hours to board their kitty.
Click on a link below that is closest to your home for additional information:
I've Seen Enough.
 
I Want To Make A Reservation
I Want To Know More & Would Like To Visit In Person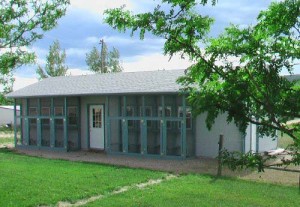 Phone: 970-266-1555
eMail: happycatretreat@outlook.com
Address: 6505 Thompson Drive, Fort Collins, CO 80526