Moritz – A Visitor From Laramie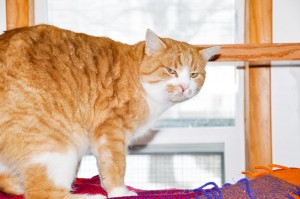 This is Moritz's first visit to Happy Cat Retreat.  His owner is travelling to Mexico.
Moritz  settled right in.  He was a little shy at first but then he came around.
He likes to come out for play time.  He stretches his legs — then locates the catnip on the scratching post.
Moritz's owner asked if she could check on him via email which she did yesterday.  We at Happy Cat know how important their cats are — they are just like kids.
About Stan Hjerleid - Senior Editor

Stan is a curator for Cat Lovers News. For the last 16 years he co-owns with his wife, Happy Cat Retreat, a cat boarding facility. He loves animals and raises parrots in his spare time.