Single Accommodations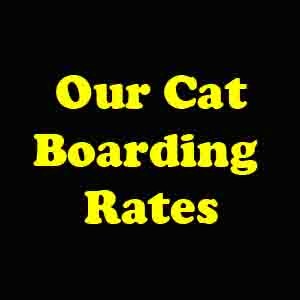 The charge for one cat is $14 per day. After 14 days, the price is reduced to $12 per day. For accommodations longer than one month, contact us for a quote.
Family Accommodations

The charge for two cats sharing the same condo is $20 per day for the first 14 days. After 14 days, the rate changes to $16 per day. For stays longer than 1 month, contact us for a quote.
Day Care
Day care is available during regular business hours with drop-off and pick-up the same day. Ideal for the working pet owner or a special occasion.
Make A Reservation or Appointment to Visit
Make Reservation
Business Hours
Our normal business hours are:
Monday-Saturday 8 AM – 6 PM.
Sunday – By appointment
We make every effort to accommodate the pet owner. We understand how important it is to get you kitty back as soon as possible. If you are arriving late and have a cell phone and can call us, we will make every attempt to accommodate your schedule for pick-ups. Drop-offs are to be between 7 AM and 6 PM.
About Stan Hjerleid - Senior Editor

Stan is a curator for Cat Lovers News. For the last 16 years he co-owns with his wife, Happy Cat Retreat, a cat boarding facility. He loves animals and raises parrots in his spare time.